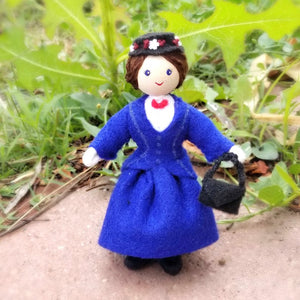 Mary Poppins Doll
Handmade Mary Poppins figurine doll. Practically perfect in every way. She stands at 5.25 inches tall with bendy arms and legs.
**Please Note** This doll has small parts and is not suitable for children under 3 years of age or who still like to munch on toys.
**Made in the USA**
*Clothing is not removable*
**These dolls are handmade, not mass produced so there are slight variations to the face and such.**
Dolls are made of double strands of wire, wrapped with yarn for strength and durability. We put the utmost care into making our dolls as strong as possible. However, please note that excessive twisting can cause the wire to weaken.
---
We Also Recommend