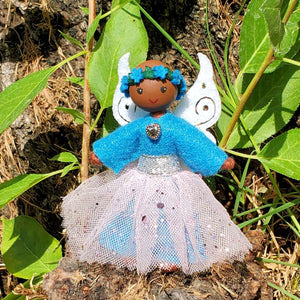 Blue Fairy Doll
This sweet fairy doll is dressed in blue with a cute sparkle skirt of pink. Perfect for imaginary play. She stands at 3 1/4 inches tall. Choose skin tone from the drop-down menu.


This line of fairies was designed at the request of several mothers whose children are fighting childhood cancer & wanted dolls without hair for their daughters going through chemo.
**Please Note** This fairy doll has small parts and is not suitable for children under 3 years of age or who still like to munch on toys.
**Made in the USA**
*Clothing is not removable*
Dolls are made of double strands of wire, wrapped with yarn for strength and durability. We put the utmost care into making our dolls as strong as possible. However,
please note that excessive twisting can cause the wire to weaken

.
Here at Wildflower Toys, we are firm believers in American Made. We know that our country was built on small business and that jobs shipped abroad almost never return. When you buy goods made in the USA, you help keep the American economy growing and strong.
---
We Also Recommend